USI INFORMATION
If you're studying nationally recognised training in Australia from 1 January 2015, you will be required to have a Unique Student Identifier (USI). Your USI links to an online account that contains all your training records and results (transcript) that you have completed from 1 January 2015 onwards. Eg, your results from 2015 will be available in your USI account in 2016.
When applying for a job or enrolling in further study, you will often need to provide your training records and results (transcript). One of the main benefits of the USI is the ability to provide learners with easy access to their training records and results (transcript) throughout their life. You can access your USI account online from your computer, tablet or smart phone anytime. 
It's free and easy! create your own USI  It will only take a few minutes of your time. Alternatively, we can create your USI on your behalf. To do this we will need some additional identification information from you such as your driver's licence number. Please click enrol to complete this process.
How to access your training record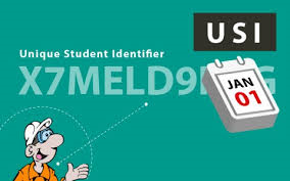 If you have completed a nationally recognised training course with HPA Training (or any other Registered Training Organisation) since 1st January 2015 you would have needed a Unique Student Identifier (USI) to receive your qualification or Statement of Attainment.
A USI is a reference number that links you with all the recognised training you have completed.  This allows an online record of your training and qualifications or Statement of Attainments attained in Australia.
You can use your USI account to access a record of all nationally recognised VET qualifications or Statement of Attainments you have completed since the USI system came into effect on 1st January 2015.
How do you access your record?
Go to https://www.usi.gov.au/
Select the" Login" option on the top right-hand corner of the screen
Select the red "Student login" button
This will take you to the Terms and Conditions page. Tick the terms and conditions if you agree and select "Next"
Log into your USI account using the login box on the right of the screen. Enter your USI or email you used to create your USI, followed by your password and select "Login". If you have forgotten your password, click the "Forgotten your password?" link and follow the instructions.
When you have logged in, select the "View Transcript" button. Read the transcript information. This includes important information on what is in your USI Transcript and where the information comes from.  If you agree, select the tick boxes then click "Next" to continue.
You will now see your online transcript.
 A few things to remember:
Your USI Transcript is a useful backup but does not replace the Statement of Attainment you receive from your training provider.
The transcript only shows any nationally recognised VET qualifications and Statement of Attainments you have completed since 1st January 2015. It won't show other forms of training such as non-accredited (Statement of Attendance or Workshops)
Depending on how often the training organisation reports your training may not appear for some time (up to 12 months)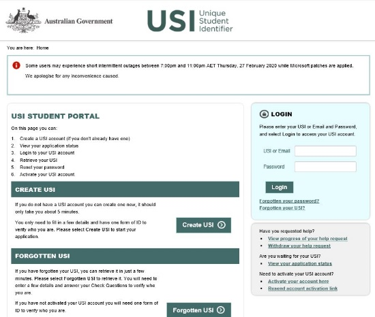 ENROLMENT PROCESS
The primary purpose of the initial contact process is to establish the training needs of the client and ensure the client receives all pre-enrolment information applicable to the program they are interested in. Establishing the training needs is important to ensure that those clients enrolling in programs are aligned to training and assessment that meets their vocational requirements in industry. By providing clients with pre-enrolment information early, we are also ensuring that prospective students are informed about their rights and obligations, the services to be provided and fee and refund arrangements.
Via Phone or in Person
HPA Training staff will establish which course is relevant to students training needs:
Conduct an LLN Interview via phone or in person
If successful will provide student with pre-enrolment information – your rights and obligations, USI number, fee schedule, refunds, privacy, and appeals & complaints etc.
Inform student of cost of course undertaking and how to make payment
Email student a copy of Student Handbook or direct student to where on website
Email student a course brochure or direct student to where on website
Inform student regarding what support is available (if applicable to cater for individual needs). Inform training staff of these requirements and schedule a reminder for the allocated trainer prior to the commencement of course
Inform student what proof of identity will be needed
Email student confirmation of enrolment and course details – where and when?
Inform you what to bring – PPE, lunch etc
Send you an invoice
Email you an enrolment form
Online via our Website
Fill in all relevant information to the best of your ability and submit
HPA Training booking person will contact you to discuss your enquiry
Conduct an LLN Interview via phone
If successful will provide student with pre-enrolment information – your rights and obligations, USI number, fee schedule, refunds, privacy and appeals & complaints etc.
Inform student of cost of course undertaking and how to make payment
Email student a copy of Student Handbook or direct student to where on website
Email student a course brochure or direct student to where on website
Inform student regarding what support is available (if applicable to cater for individual needs)
Inform training staff of these requirements and schedule a reminder for the allocated trainer prior to the commencement of course
Inform student what proof of identity will be needed
Email student confirmation of enrolment and course details – where and when?
Inform you what to bring – PPE, lunch etc
Send you an invoice
Email you an enrolment form
HPA Training booking person will contact you to discuss your enquiry